VIP Experience
The Theatre Under the Stars VIP Experience package allows individuals or organizations to treat a group of colleagues, important clients, employees, teammates, or friends and family to a fun and unique night out. With multiple package options we are sure to make your night at TUTS unforgettable!
TUTS VIP Experience includes:
Best available seating
Private Reception Area
Complimentary seat cushions
Complimentary 2023 TUTS Programs
Your choice of one catering package provided by
Private bar
Exclusive early venue access
All Menu Options include:
The full VIP experience mentioned above
Friendly Bartenders and dedicated host to tend to guests needs
All required eco-friendly items (plates, utensils, napkins)
Please note, if you purchase ticket exchange insurance with your VIP night, notice must be given two full days in advance to reschedule your event. There are no refunds for VIP bookings.
If you are interested in knowing more or in booking a VIP Night, please contact info@tuts.ca.
PRE-SHOW MEAL
Vegetable Crudite Platter
A selection of baby carrots, cucumber, green beans, cauliflower, red peppers, and radish
Served with tzatziki & hummus
Salad (Choose 2)
Macaroni Salad
Just like mom used to make but maybe just a bit better!
Celery, carrots and sweet pickles (GF/DF)
Potato Salad
Red baby potatoes, snap peas, mixed bell peppers, celery, red onion, fresh dill and creamy horseradish dressing
Summer Green Salad
Mesclun greens, cucumber, carrot, cherry tomatoes, toasted sunflower seeds, shaved radish and citrus vinaigrette
Assorted Sandwiches
Please let our team know of any dietary restrictions at the time of booking
FOR THE SHOW
Bag of Mixed Kettle Chips
Bottle of Still Water
INTERMISSION
House-Made Assorted Cookies
Coffee, Tea
PRE-SHOW RECEPTION
Grazing Boards
A selection of local artisan meats, cheese, roasted and marinated vegetables, honey, dried fruit, olives, preserves, breads & crackers (gluten free available upon request)
Canape Platters (choose 4, 1 piece per person each)
Smoked Salmon Tartare
Tomato & Bocconcini Skewers
Mediterranean Chicken Skewers
Classic Crab Cake
Strawberry Bruschetta
Ginger Chili Prawn
Fig & Goat Cheese Tart
FOR THE SHOW
Bag of House Popped Popcorn
Bottle of Sparkling Earth Water
INTERMISSION
Assorted Seasonal Desserts
Fresh Fruit Skewers
Coffee, Tea
PRE-SHOW MEAL
Salad (Choose 2)
Caesar Salad
Romaine lettuce, croutons, house-made dressing, lemon wedges and shaved parmesan cheese
Broccoli Power Salad
Broccoli, spinach, kale, quinoa, carrots, chickpeas, lentils, tomato, mint, dried cranberries, almonds and raisin vinaigrette
Classic Potato Salad (GF/DF)
Baby nugget potatoes, carrots, celery, onion and fresh parsley
Sides (Choose 2)
Classic Sautéed Green Beans (cold)
Crispy House-Made Sweet Potato Fries
Corn on the Cob
Entree (Choose 2)
(additional vegetarian option available)
All Beef Burgers
Beyond Meat Burgers
House-Made Veggie Burgers
All Beef Hot Dogs
FOR THE SHOW
Bag of House Popped Popcorn
Bottle of Still Water
INTERMISSION
Assorted Seasonal Macaron (2 per person)
Coffee, Tea
PRE-SHOW MEAL
Salad (Choose 1)
Caesar Salad
Romaine lettuce, croutons, house-made dressing, lemon wedges and shaved parmesan cheese
Corn + Black Bean Salad
Charred corn, black beans, red peppers, cucumber, radish, cilantro, feta cheese and honey chipotle vinaigrette
Watermelon + Feta Salad
Watermelon, cucumber, peppers, arugula, mint, feta cheese and citrus vinaigrette
Sides (Choose 2)
Corn on The Cob
Sweet Potato Fries
Macaroni & Cheese
Green Beans with Roasted Tomatoes (cold)
Corn Bread Muffins
Entrees (Choose 2)
(additional vegetarian option available)
Classic BBQ Chicken Breast
Buttermilk Fried Chicken
Baby Back Pork Ribs
Grilled AAA Flatiron Steak
FOR THE SHOW
Bag of House Popped Popcorn
Bottle of Still Water
INTERMISSION
Assorted Seasonal Desserts & Fresh Fruit Skewers
Coffee, Tea
What People Are Saying
Here are some glowing reviews that the VIP Experience has received from satisfied patrons:
"Thank you so much for your wonderful hospitality. Our group had a fabulous time – everyone loved every second of it!"

Rocky Mountaineer
"It was a great night; we had a blast. Good food too!"
White Paper Company
"Thank you so much for the wonderful event on Sunday night. You took care of us and made our special night perfect."
Gerry & Noriko
"Thank you so much for making this night so special. A great time was had by all – so many have already e-mailed to say so."
American Standard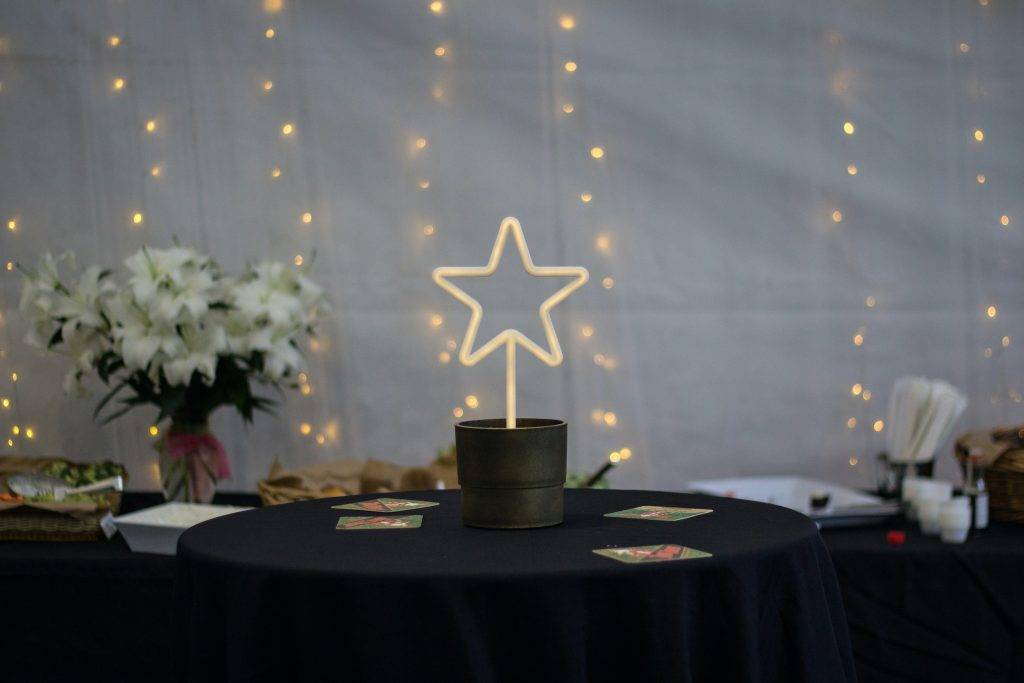 D.A Townley VIP Night 2019
Photo Credit: Julie Holden