Getting Here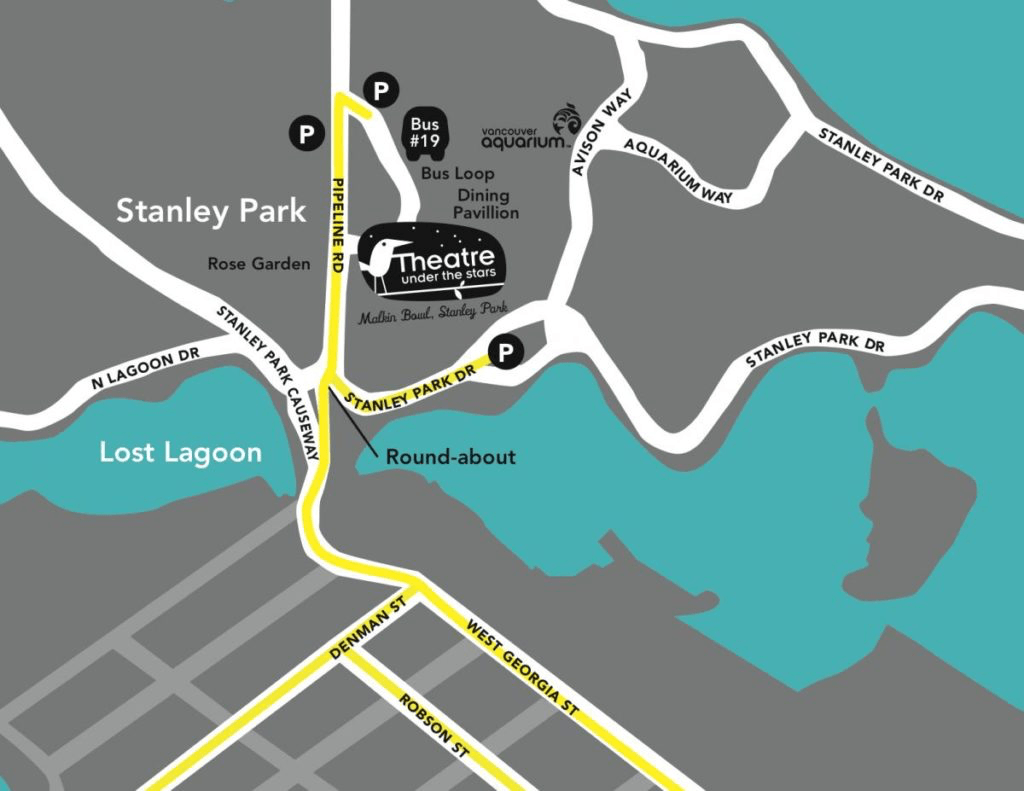 Bicycles can be brought inside the theatre and locked inside the perimeter fencing.  Please do not leave your bike attached to the front gate!
From downtown Vancouver, take the #19 bus to the Stanley Park Loop. Take a short walk south past the Dining Pavilion to Malkin Bowl. 
Go to http://tripplanning.translink.ca/; enter 610 Pipeline Road or Malkin Bowl as your destination or departure address, to get specific bus times.  When leaving the theatre you can catch it at the Bus Loop behind the Stanley Park Dining Pavilion.
From downtown Vancouver:
Drive on Georgia Street northbound, towards Stanley Park in the right hand lane. As you enter Stanley Park, you will come up to a round-about. Drive straight through the roundabout, past the Rose Garden sign and take the first right. Theatre signage will be directly in front of you.  Continue along past The Stanley Park Dining Pavilion for parking in front of the Stanley Park Train.
Driving from the North Shore:
Come over the Lions Gate Bridge, pass through Stanley Park and turn around at Denman Street. Head back towards Stanley Park and follow the above directions.
Parking
Pay parking is available throughout Stanley Park. Please see the City of Vancouver website for information about their parking lots and fees.
From the roundabout, take the second right hand exit onto Pipeline Rd, drive approximately 100 meters and take your first right toward Malkin Bowl. This will take you the drop off point for Malkin Bowl and accessible parking. From the drop off point you can carry on to the Railway Parking Lot.